Wireless Networking Services
SPEED IT provides high-performance broadband wireless solutions specifically designed for building-to-building LAN connectivity and wireless Internet distribution. Service Providers and enterprise customers alike choose our solutions based on our continued reputation for reliability, performance, service and value.
SPEED IT is a leading provider of wireless networking solutions to businesses throughout the Midwest. With the recent advancement of wireless technologies, we are able to reduce your dependency on local telecommunication providers for your bandwidth between multiple locations.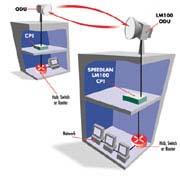 Wireless Networking Benefits:
Robust, reliable backbone link
Ability to operate product throughout the world
No recurring fees or installation charges
No special management applications required
Integrates in any SNMP management environment
No special customer premise equipment required
In most cases, we save businesses more money in the first 6 to 12 months, than the total investment in the wireless networking products. The speeds and dependability are often greater than a typical WAN connection.
We are able to give you pricing information for your next wireless installation. A site survey is required prior to a final pricing proposal. This ensures that your installation will be as successful immediately after the initial installation.