Products : Malaysia SCATV, CATV
Malaysia SCATV and CATV For Commercial
Malaysia Cable TV CATV Systems
Malaysia Cable TV systems commonly referred to as CATV use a dedicated coaxial cable connection to each viewing point to distribute TV from a single set of antennae at a central point or head end. The simplest system is a MATV (Master Antenna TV) system. This distributes analogue and digital terrestrial channels (Freeview channels) received by a single central antenna to multiple viewing points. To receive analogue channels a standard TV is sufficient. To receive Freeview channels, either a Freeview set top box is required or a TV with integrated Freeview tuner.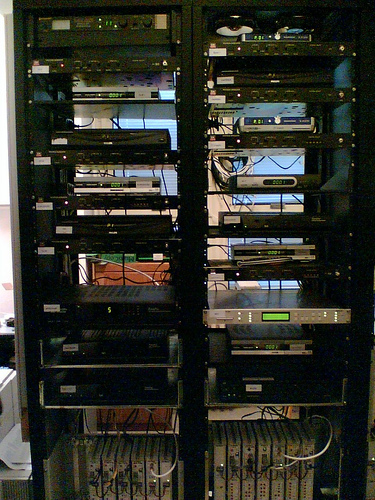 CATV Headend, on visit local cable television hq. these are racks with satellite receivers and modulators.
Two developments of the basic MATV system are the SMATV system (Satellite Master Antenna TV) and the IRS (Integrated Reception System). Both add satellite reception but in different ways.
All IRS, SMATV and SCATV systems designed and installed by Speed It Communication are in accordance with Communication standards.
Projects / Success Stories :
SPEED IT : Always Be Your Partnership And Consultant.
Email Us Now : sales@speed-it.biz for more information.
OR Call Us Now 019-6655355 for any enquiries.

SPEED IT COMMUNICATION (MA0183289-X)
Hotline No. : 019-6655355
Tel : 03-2633 2212 Fax : 03-2181 6027

Emails: sales@speed-it.biz & support@speed-it.biz
Website: http://www.speed-it.biz
Copyright @ SPEED IT COMMUNICATION, All Rights Reserved.